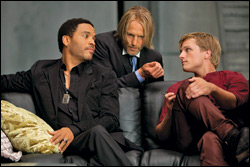 We all have heard that The Hunger Games performed extremely well at the box office, starting off with high midnight premiere sales on March 23rd and resulting in four weekends in a row in the No. 1 spot. In addition, looking at the millions that The Hunger Games has earned domestically and internationally so far, it's not hard to tell that Lionsgate struck gold with Katniss and the rest of Panem. However, the numbers game is a lot different in the financial world, as Variety reports that Lionsgate has recently commented to investors that "profits from The Hunger Games have just started to flow." This is in response to an earnings report that fell short of what was expected.
In a conference call with analysts on Thursday morning, CEO Jon Feltheimer projected that 90% of earnings from "The Hunger Games" have not yet shown up on the studio's bottom line. His declaration comes on the heels of Wednesday's earnings report that fell short of expectations, elevated partly by the box office performance of "Hunger Games."
This bit of doubt has opened up discussion on the financial security of Lionsgate, especially considering the acquisition of Summit earlier this year. However, Feltheimer said that "$900 million will be generated over the next three years by Lionsgate operations," specifically referring to projects such as The Hunger Games and Twilight franchises, in addition to a couple of TV series.
"With this level of profitability, we remain confident the Summit term loan will be paid down on schedule and our corporate debt at the Lionsgate level will be significantly reduced," he said during the call.
So what does this all mean for the next Hunger Games movie? According to Feltheimer, the future is looking bright for The Hunger Games: Catching Fire.
Feltheimer said production will begin in September on "The Hunger Games: Catching Fire," the second film in the franchise based on author Suzanne Collins' trilogy. He noted that Lionsgate racked up $170 million in international sales at Cannes, where it began selling foreign markets for "Catching Fire," which will open on Nov. 22, 2013.

Patrick Wachsberger, the co-chair of Lionsgate Motion Picture Group, told analysts that "Catching Fire" had done "extremely well" in Cannes. "We got the best deals," he added.

The former Summit chief also predicted "Catching Fire" will reach $400 million in foreign B.O., based partly on the performance of the second "Twilight," which outgrossed the first in foreign markets by 50% (the first grossed $192 million overseas and the second took in $296 million).
For the rest of the article, head on over to Variety. What do you think about the future of Lionsgate and The Hunger Games franchise? Let us know in the comments below!
Source: Variety